Maybe you've seen them on other forums: Points and Repuations? Well weather you have or haven't we got em' here at the COG Forums! I'll explain each one here and how to use them:
Points:
Your points show a lot of things:
*How long you've been here
*Your Post count
*How many have friends you have on hte forums
*and a TON of other things
Earning points is really fun and super easy! "Whats the point of 'points'?" you ask? Well they can be used for things like competitions, and it's good for the staff to see who will be picked as the next Trainee Mod or User of the Week!
So how can you earn points? Well it's as easy as interacting around the forum! Just making and replying to posts will get you points! Adding more users to your friends list will get you points!
If you post a message then you will recive 2 points, and if you reply to a message you get 1. Pretty cool huh?
AND becuase we're all about global warming and going green around here, if you post a message in the Forum titled: "Cool Our Globe Forums" (the one with sub forums like "Latest Climate Crisis" and "Who's helping out?") you will get 3 points! And 2 points if you reply in a post in that section!
The only reason you get extra points for posting and replying there is becuase we want you to talk more about global warming and current issues!
Forum Reputation
Forum repuation shows how much people like or dislike the posts and replies you make. If you say something nice then you might get a +1 rep point. But if you say something mean then you might get a -1 rep point. Rep points are different from regular points becuase they show how well your posts are liked around the forums! Your rep points are controlled by other users unlike regular points which are automatic. So here is how they work:
*Each post/reply will have this symbol on it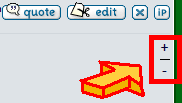 *If you like what someone said in a perticular post/reply then you click the "+" sign.
*When you do that a green bar will appear to show you have clicked the "+" sign.
*If you dislike what the user said then you'd click the "-" sign.
*If you do so a red bar will appear.
After a while all these clicks will start to display how liked or disliked a perticular users post and replies are. Get it?
So with all that said I will allow you to begin using the points and reputation systems! If you run in to any porblems or have any questions PM myself or Jduck and we will be more than happy to help you out!
have fun!
Thanks
Alice